50cc Mini Moto Quad Bike SX-49 Racing Style PRE ORDER DUE 1/12/21
£309.99
Regular price
£389.99
Tax included.
Shipping
calculated at checkout.
The SX-49 racing style 50cc Mini Moto Quad Bike looks fantastic with its futuristic Racing Styling, attractive colour coded suspension and wheel rims plus quality chrome plated front bumper but it also delivers with features including larger diameter wheels and chunky tyres, upgraded 140mm drilled disk brakes with EBC pattern pads all round, latest generation 50cc two-stroke engine, 190mm fully adjustable shocks front and rear, sealed Super dry long-life wheel bearings, 2 spring heavy duty racing-style clutch and great sounding twin exhaust system. This bike also has larger 6″ wheels making it more stable and better for off-road riding.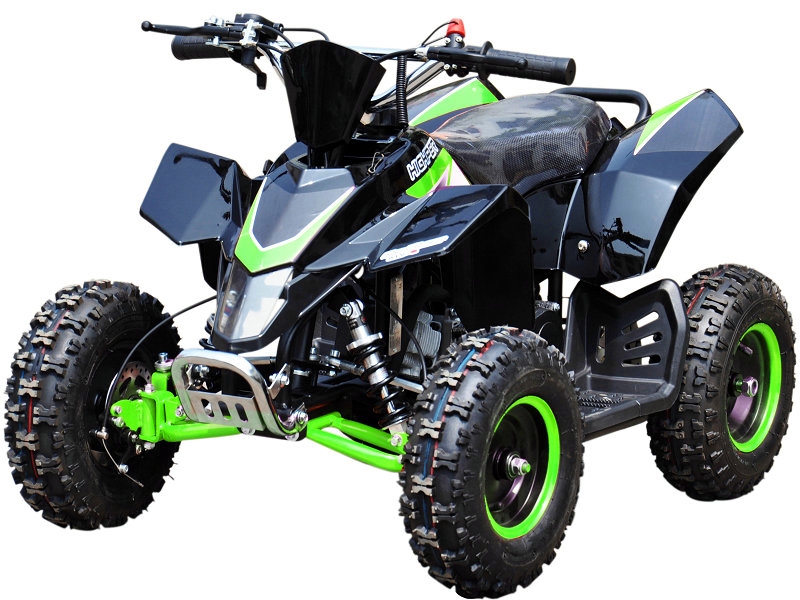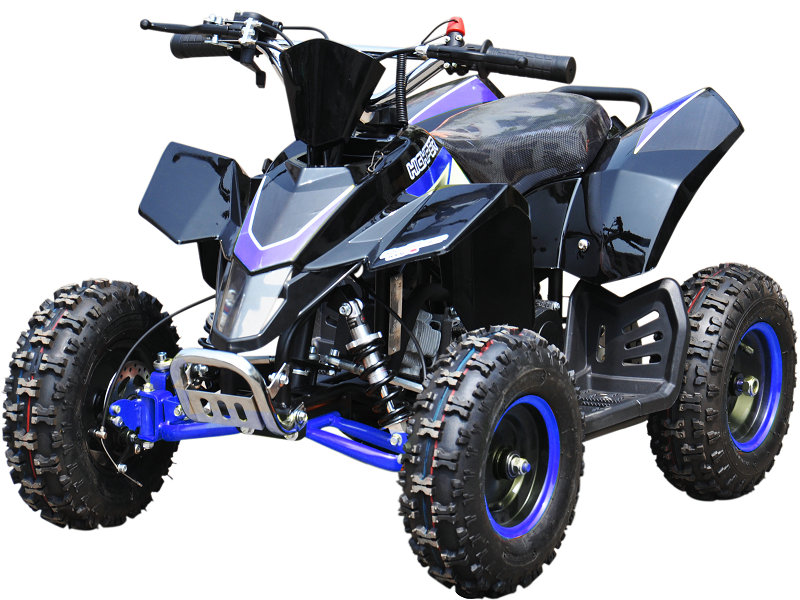 These 50cc Mini Moto Quad Bikes are aimed at younger kids where the lightweight and nimble handling make them easier and safer to ride. The power can be restricted to provide the appropriate amount of power for the rider's ability.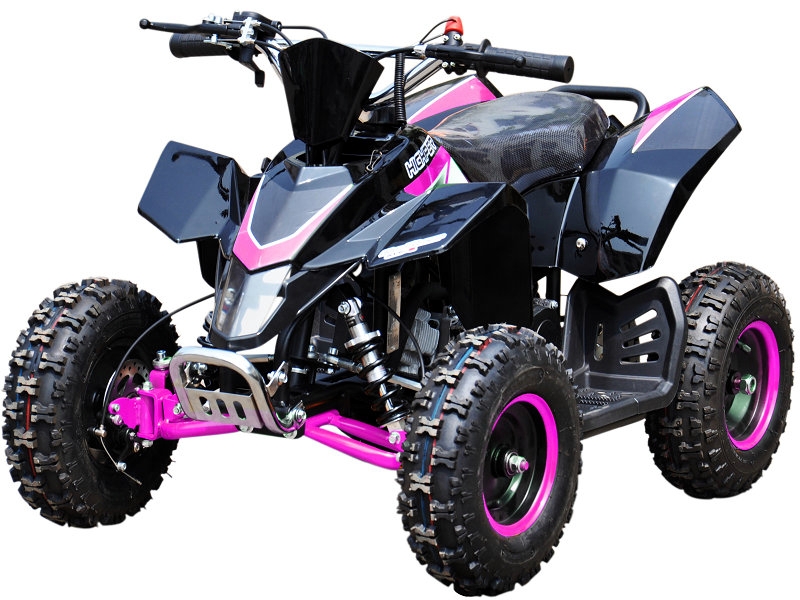 This 50cc Mini Moto Quad Bike has been designed with safety in mind and conforms to current EU and CE standards. The safety features include a throttle restrictor to slow the Quad down to a safe pace if required, allowing the rider's confidence to grow. Then as the riders proficiency improves simply open up the throttle settings and the machine will allow more performance.
50cc Mini Moto Quad Bike Features
Thumb throttle (to protect the riders wrist) just like large Quads
Independent Front and Rear disk brakes
Safety Tether
Speed can be restricted for inexperienced riders
Stronger Frame
Durable New Style plastics
Full rev 'n' go
Transmission: Chain drive
Starting System: PULL start (Easy Start)
Light and small enough to fit in a car
50cc Mini Moto Quad Bike Specification
49cc 2-stroke air-cooled latest generation engine
2.5kw at 8700rpm
Easy Start Pull Start
190mm front and rear adjustable shocks
Front and Rear 140mm Disk Brakes
Net weight 29kg
Recommended Max Load 75kg (12 Stone)
Dimensions: 1000mm length, 590mm width, 630mm height
Intended for over 5 years+ (younger children at parents discretion)
Designed for off-road use only 
Required to use
Some minor assembly may be required to refit some small items that may have been removed to enable the bike to fit in the packaging the footrests or items that have been packaged separately to avoid.
All that's needed is unleaded petrol and 2 stroke oil.
Terms and conditions of supply for Mini Motos, Pit Bikes and Quad Bikes
The products that we supply are technical & mechanical products, which require mechanical knowledge and the ability to use and maintain. A small amount of assembly is required, such as fitting the footrests and adjusting the handlebars, the bike should also be checked before first use and then regularly to ensure all the essential bolts and fittings are secure and correctly adjusted. You should not purchase these products unless you have a good understanding of how to use and maintain mechanical products.


The following parts are not covered by the warranty on this item.
Fairings/ bodywork (unless damaged during delivery. Photos required within 24 hours of receipt)
Pull Starts
Clutches or springs
Exhaust Pipes
Tyres, Wheels
Terms of Warranty
Due to its size and weight this item is covered by a replacement parts warranty, if your machine develops a fault within the warranty period of 30 days, you need to contact us and we will advise how to best rectify the problem and dispatch replacement parts, without charge providing the faulty parts are covered by the warranty.
Please note customers will be expected to fit the parts themselves, guidance will be available on technical issues.
UK MAINLAND DELIVERY ONLY - PLEASE CONTACT US FOR A QUOTE FOR DELIVERY TO THE FOLLOWING POSTCODES
IM, GY, JE, TR, BT, IV, HS, ZE, AB, KA, KW, PA, PH
Looks fantastic + excellent price
I can't review the performance just yet as the quad is for 1 of my sons Christmas present. I've not seen any others of this spec so reasonably priced so I purchases early to avoid being out of stock nearer Xmas. I can't wait to see my little lads face 😍
P.s from ordering to delivery was second to none, less than 48 hrs!
It's not to bad few problems
It came as they said it would but the plastics are bent and there's no way to straighten them I have grown up doing quads up and riding them so who ever made the plastics didn't do a very good job other than that amazing little runner my daughter will love it for her birthday thankyou
Easy to use
We purchased a quad from another company and it was nothing but trouble from day one. We sent that back and ordered our daughter one of these in pink. The difference in quality was crazy! We paid £60 more for the other quad and it was rubbish compared to this! The service I recieved from mini bikes was second to none. My daughter loves this quad bike. It is very simple to put together and maintain.
50cc quad
After a an issue with some damage on delivery which was quickly rectified I still have some reservations on how straight the rear end of the bike is !!!! only time will tell .....
Fantastic quad bike
My wife collected one today and I can't thank you boys enough! This has made my little girls birthday. We have just been out for nearly two hours and it was two hours of laughing and smiles. Great quad, Great service!