50cc Mini Dirt Bike KXD01 PRO Upgraded Version 6 Colours Pre Order!
£229.99
Regular price
£255.95
Tax included.
Shipping
calculated at checkout.
PRE ORDER DUE JANUARY 28TH! PRE ORDER PRICE OF ONLY £229.99
50cc Mini Dirt Bike now with even more upgrades for the same price making this Bike even better value

The Kxd01 now come with the performance 15mm Racing carburettor. This will make the bike more reliable, run smoother and easier to maintain! The wheels are now all Black along with the forks (This makes the bikes look a lot smarter!)
These Mini Moto 50cc Mini Dirt bikes have quickly become the most popular type of the Mini Moto thanks to their ability to be used almost anywhere. The KXD01 Mini Dirt bike can handle uneven ground due to its front and rear suspension and chunky tyres it has brought access to a whole new world for the Mini Moto enthusiast. The KXD01 also makes an ideal first motorbike.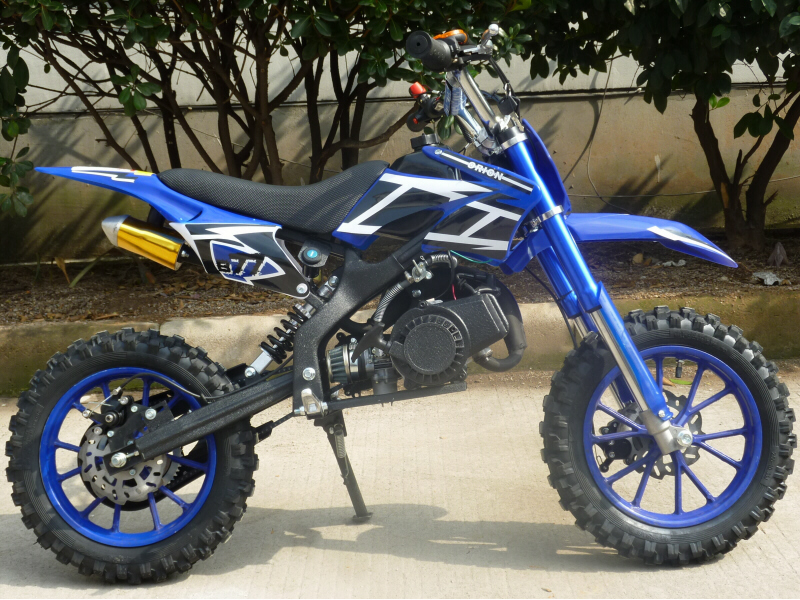 Quality built to European safety standards these Mini Moto 50cc  Mini Dirt Bikes have important safety features that you do not find on all Mini Motos 50cc  Mini Dirt Bikes including, Safety Cut-Out with a tether to stop the bike should the rider become unseated, fully enclosed chain to stop clothing or other items coming into contact with the transmission and front and rear independent disk brakes. The speed can be restricted for inexperienced riders.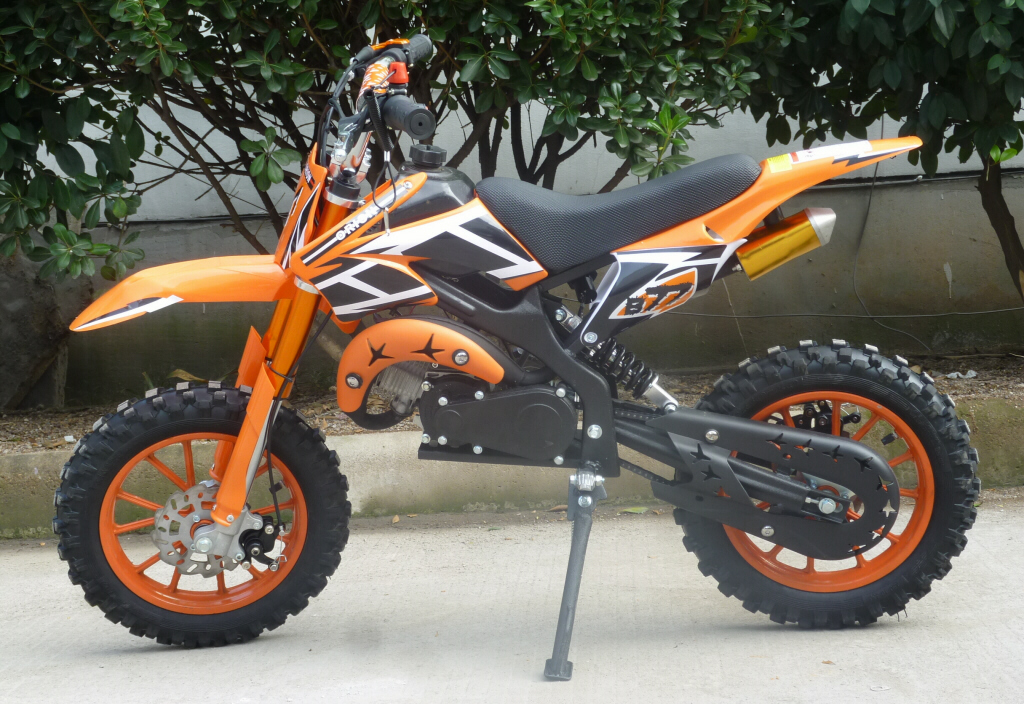 Small and light enough to be put into the back of a car they are easy to take to one of the many Mini Moto tracks around the country.
At these prices, all your mates can have one and then you can have some real fun!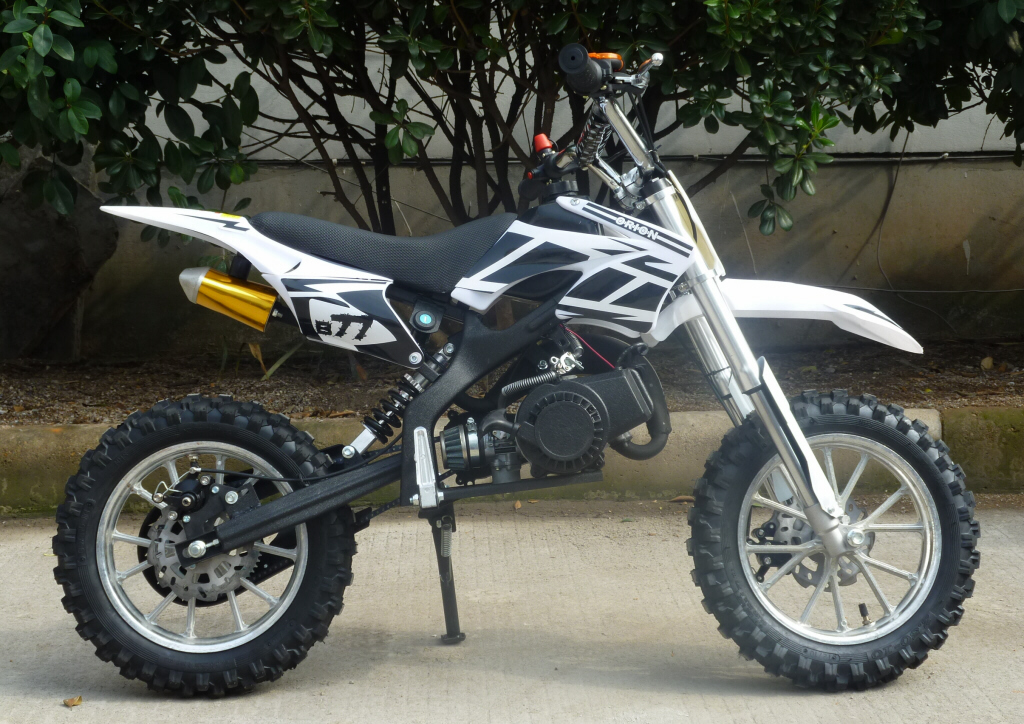 The Mini Moto 50cc Mini Dirt Bike Orion KXD01 PRO is a premium Mini Dirt Bike.
This bike has many upgrades over the normal Mini Moto 50cc Mini Dirt bikes available including  the following:
Aluminium upside-down forks with stanchion guards (looks the business)
Colour coded aluminium wheels (added quality)
Upgraded Bodywork and Fuel Tank (latest design)
Proper off-road tyres (better handling)
Up-swept exhaust with aluminium End Can (better ground clearance and great sound)
Wavy disks front and rear (not only look great but work great as well)
Upgraded swing arm (Looks better and is stronger)
And now the latest stock has the following further upgrades making it even better value:
Upgraded stronger clutch
Easy Start pull starter (makes starting much easier, particularly for youngsters)
* Please note, pull starts are not under any warranty as if used correctly, they will not snap. They are easy pull starts so will not need to be forced.
You won't find this list of upgrades on any other Mini Dirt Bike for this price.
Please note: there may be some colour differences to the trim of the bikes to that shown in the pictures.
Mini Moto 50cc Mini Dirt Bike Orion KXD01 PRO Features
Speed can be restricted for inexperienced riders
Safety Cut Out with Tether
Range/tank: 35 – 45 miles
Max. Load: 65kg
Engine: 49cc, single-cylinder, 2-stroke, air-cooled
Fuel: 25:1 petrol/oil mix (mixing bottle included)
Plastic Fuel tank: .8L
Start method: manual pull start (Easy Start)
Ignition: CDI
Transmission: chain-driven (fully enclosed for safety)
Brakes: Front and rear independent disc brakes
Material: a) Frame: steel. b) Bodywork: ABS plastic
Upgraded Stronger clutch
Mini Moto 50cc Mini Dirt Bike Orion KXD01 PRO Specification
Engine Type – 49cc, single-cylinder, air-cooled, 2 stroke
Starter – Easy Start Pull start
Fuel Mixing bottle
Tool kit
Ignition – CDI
Carburettor – Ruixing Brand
Transmission – Chain
Upgraded Clutch – Automatic
Max power – 2.1KW
Frame & Swing Arm – Steel
Front shock – Inverted  aluminium front shock
Rear shock – Taiwan  alloy rear shock
Brakes – independent Front & Rear Disk
Front & Rear wheel – Front:  2.5-10  Rear:  2.5-10
Engine Sprocket – 14   teeth
Overall length 125 cm
Seat Height 60/62 cm
Package Size L / W / H – 108 x 31 x 52 cm
Tank Capacity – 0.8L
G.W. / N.W. – 27 kg/25 kg
Please note: the colour of some of the ancillary plastic components may vary from that shown in the pictures.
Terms and conditions of supply for Mini Motos, Pit Bikes and Quad Bikes
All motorbike's and quad-bikes can be dangerous if used incorrectly. Please always wear appropriate safety equipment when using bikes or similar machines. The use of any powered vehicle could involve the risk of injury or death. Please use these products in a responsible manner. The products that we supply are technical & mechanical products, which require mechanical knowledge and the ability to use and maintain.
Pull starts are not covered under warranty. Please do not force them too much as they will snap.
Please see this link on how to assemble the bike-
https://youtu.be/Hb8Tf2MkG30
Got one in October to put away for Christmas for my son, put it together there was a leak to Pipe to fuel on of switch was leaking but we fixed that, as it was going everywhere , but will sill not strat at all so have a new bike just sitting in my house that will not go on
Kxd01 mini dirt bike
Over the moon my little boy loves it even his older brother and sister have nicked it off him easy to assemble and easy to start like the fact I can restrict the throttle so it doesn't pull off to fast but don't underestimate it because it's small it's very fast so I would always start them off if not experienced on the lowest restriction on the throttle it's dead easy to do takes 2mins highly recommend this company for all your mini bike needs will be using them in the future for anything I need in fact will be ordering the suit helmet gloves boots and goggles for him soon 10 stars top company
not great
Bike arrived damaged. Chain guard smashed and foot rest twisted. It took 5 days for company to return my email. ( They don't work weekends) Then the instructions were poor as I didn't understand why the choke wouldn't stay in one place. As of time of writing still can't start it. Mechanic has said the coil was faulty so getting it replaced. just hoping I can get it started prior to Xmas. Company offered me a full refund
50cc Mini Dirt Bike KXD01 PRO
Service and deluvery amazing. Bike looks great, but not used yet as its a gift for Christmas. We will see how robust it is thereafter. Will be a great starter bike for the price and will be my son's dream come true.
So far the only downside is like a previous feedback stated...."The handle bars and suspension setup was delivered on back to front so had to dismantle it and put it all the correct way round even the brake pad calliper was on the outside of the wheel set up"
Was a nuisance really so we are releaved we decided to build it long before the big day. If it wasn't for that issue I would have given 5 star.
Thank you
Hi Luke,
Thank you so much for the review. The front suspension looks like its the wrong way but the fork leg simply twists in your hand. The upper fork leg thats bolted on stays as is but the silver part turns 360'. They are packed like this so the front brake caliper doesn't sit on the floor of the box as it could end up damaged.
Kind regards
Mini bikes
Unsure
I bought this for my son for Christmas so as much as I'd love to review its still unopened in box until Xmas eve , praying its all there and fully working when built I'm no mechanic but luckily my brother is so fingers crossed I have a happy child on Xmas morning. Amazing price tho a d definitely be buying again!!!!!!!