Himoto Racing Brushless Truck Bowie PRO 1/10 RTR 4WD Off-Road Electric 2.4G Latest Version
£159.99
Regular price
£189.99
Tax included.
Shipping
calculated at checkout.
Welcome to the power revolution with this hot new electric RC truck, the Brushless Truck Bowie PRO 1:10th Scale 4WD RTR RC Truck. This RC truck comes with high performance front and rear differentials, an aluminium centre transmission shaft, adjustable width suspension arms, and a brushless electronic speed control all provide for a prompt, smooth response. You can run on any terrain with this beast of a truck and its pre-trimmed aggressive tread tires. This extreme RC truck comes ready to run for immediate fun.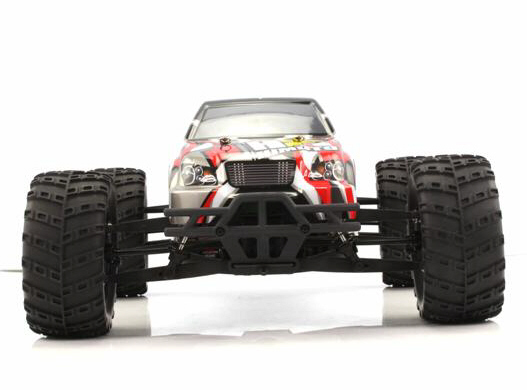 The Himoto Brushless Truck Bowie PRO is equipped with all the quality features you would expect from a hobby grade Radio Controlled Truck. High performance front and rear differentials and an aluminium centre drive shaft ensure maximum power transfer and superb reliability from the powerful brushless power system. Adjustable width suspension arms and oil filled shocks provide the plush terrain taming response to allow maximum control during high speeds.
The steering servo supports more than 6 pounds of torque to allow precise corning and the ability to hold that drift or line when you're smashing on that throttle.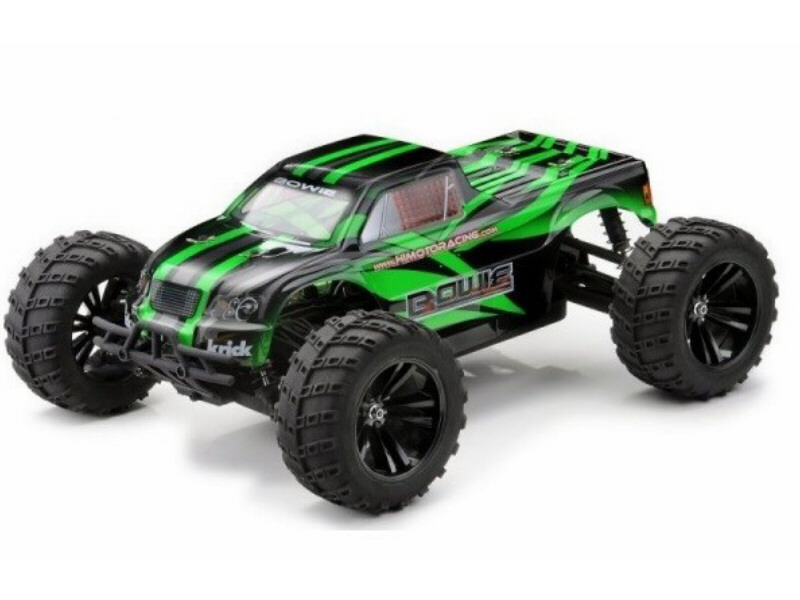 The 2.4ghz dedicated receiver and transmitter systems allows precise control and tune-ability. Throttle and steering dual rates allow you to get comfortable with the increase in power and speed along with throttle and steering trims to get the car tracking precisely.
You can tame a the roughest of terrain with this Truck. The knobby tires allow the rubber to grip at any surface with ease. The pre-cut and pre-painted body allows you to run your buggy as soon as you get the battery charged. This extreme Himoto Bowie PRO is ready for action. Be prepared to be blown away by the speed.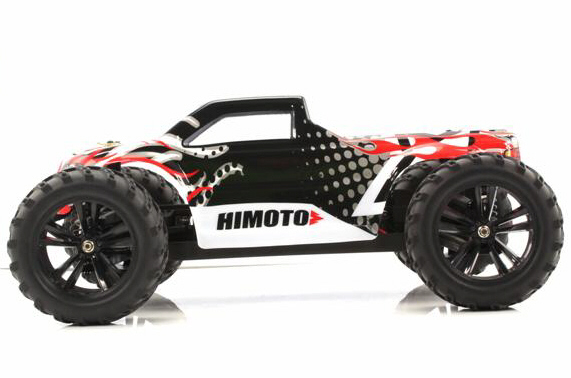 The Brushless Truck Bowie PRO comes fully built with everything you need to get going apart from four AA batteries for the transmitter. We have not been this excited about a new model for a long time and you will know why when you hit the throttle for the first time and see it pop a little wheelie before taking off at such a crazy speed.
Features Brushless Truck Bowie PRO:
2.4ghz dedicated receiver
2.4ghz transmitter
Direct axle power transfer
Powerful  Brushless Motor
45A  waterproof Brushless ESC
7.4v 2000mah  Li-Po Battery
Pre-Cut Pre-Painted Body
3kg/6.6lbs Steering Servo
Robust Front and Rear differentials
Adjustable Width Suspension Arm
 Aluminium Centre Transmission Shaft
Specifications Brushless Truck Bowie PRO:
Length: 422mm
Width: 3556mm
Height: 163mm
Wheelbase: 296mm
Required To Use
This model is fully factory built and Ready To Run with all radio gear including Pistol Type Controller plus rechargeable Li-Po battery and battery charger.
All that's needed 8 AA Batteries for the controller.
Bowie Pro
First of all this is purely on the truck itself, the customer service is excellent as always with superb delivery times. The truck has the potential to be absolutely brilliant but I do recommend you give the truck a good look over before running by checking all the parts & especially making sure the screws are tight on. Personally after one run some of the screws which I thought were tight came off & I am now awaiting an order for more screws to come. I would definitely look to buy upgrade parts on this truck.. The chasis itself looks solid enough & the shell is very nice . The ESC seems very fragile as the top of the ESC has seem to snap off somehow but still works as I have had to tape it down. You may also want to buy some better screws as well as one of the screws heads very easily stripped with very little pressure to try & remove it. The truck speed itself is extremely fast & the truck does handle nicely. Once I do upgrade the truck with aluminium parts I am sure it will be a solid truck to run.