Electric Start 50cc Mini Quad Bike SX-49
Tax included.
Shipping
calculated at checkout.
The Electric Start 50cc Mini Quad Bike SX-49 Racing Style is a top of the range 50cc Quad Bike with a build quality that surpasses all other Mini Moto quad Bikes and now comes with the addition of Electric Start.
Gone are the days of pulling on the pull start, just turn a key and press a button to get this fantastic bike started.
The Electric Start 50cc Mini Moto Quad Bike SX-49 looks fantastic with its futuristic Racing Styling, attractive colour coded suspension and wheel rims plus quality chrome plated front bumper but it also delivers with the features including larger diameter wheels and chunky tyres, upgraded 140mm drilled disk brakes all round, latest generation 50cc two stroke engine, 190mm fully adjustable shocks front and rear, sealed long life wheel bearings, 2 spring heavy duty racing style clutch and great sounding twin exhaust system. This bike also has the larger 6″ wheels making it more stable and better for off-road riding.
The safety features have not been overlooked either with safety cut-out tether, adjustable throttle restrictor and full wraparound foot plates keep the riders feet away from the moving wheels.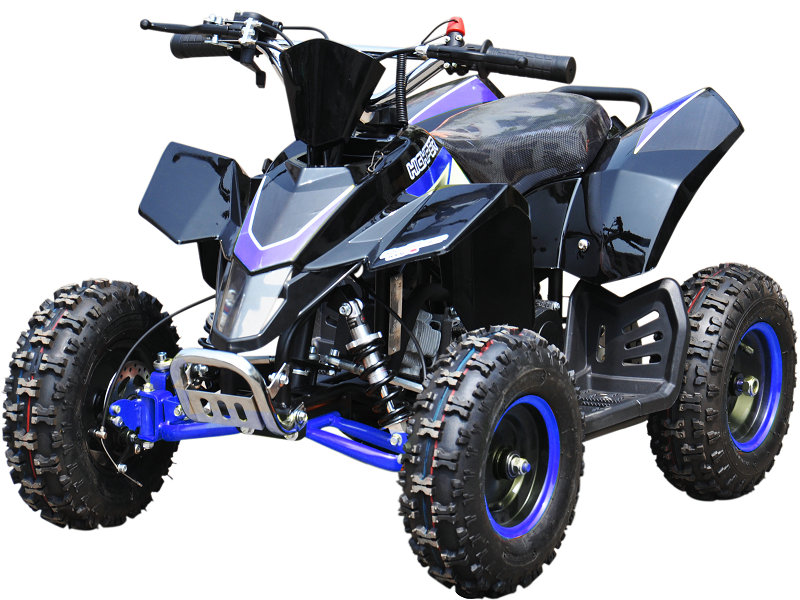 This Electric Start 50cc Mini Quad Bike SX-49 has been designed with safety in mind and conforms to current EU and CE standards. The safety features include a throttle restrictor to slow the Quad down to safe pace if required, allowing the rider's confidence to grow. Then as the riders proficiency improves simply open up the throttle settings and the machine will allow more performance. There is also a Safety Tether which can either be used on a long lead to enable you to stop the Quad should the rider loose control or attached to the rider's wrist to bring the Quad to a safe halt should the rider become unseated.
Electric Start 50cc Mini Quad Bike SX-49 Racing Style Features
Electric Start with Key Ignition and starter button
Thumb throttle (to protect the riders wrist) just like large Quads
Larger 6″ wheels for better off-road ability
Improved easy pull start mechanism
Independent Front and Rear disk brakes
Safety Tether
Speed can be restricted for inexperienced riders
Stronger Frame
Durable New Style plastics
Full rev 'n' go
Transmission: Chain drive
Starting System: Electric Start plus Pull Start
Start Ignition: CDI
Cooling system:Air Cooled
Light and small enough to fit in a car
Electric Start 50cc Mini Quad Bike SX-49 Racing Style Specification
49cc 2-stroke air cooled latest generation engine
2.5kw at 8700rpm
Electric Start
Larger 6″ wheels
190mm front and rear adjustable shocks
Front and Rear 140mm Disk Brake
Recommended Max Weight 75kg (12 Stone)
Dimensions: 1000mm length, 590mm width, 630mm height
Designed for off road use only – not to be used on a public highway
Required to use
Some minor assembly may be required to refit some small items that may have been removed to enable the bike to fit in the packaging the footrests or items that have been packaged separately to avoid damage such as screens.
All that's needed is unleaded petrol and 2 stroke oil.
Terms and conditions of supply for Mini Motos, Pit Bikes and Quad Bikes
All motorbike's and quad-bikes can be dangerous if used incorrectly. Please wear appropriate safety equipment at all times when using bikes or similar machines. The use of any powered vehicle could involve the risk of injury or death. Please use these products in a responsible manner.
The products that we supply are technical & mechanical products, which require mechanical knowledge and ability to use and maintain. A small amount of assembly is required, the bike should also be checked before first use and then regularly to ensure all the essential bolts and fittings are secure and correctly adjusted. You should not purchase these products unless you have a good understanding of how to use and maintain mechanical products.
None of the bikes we provide are 'road legal' and are not for use on the public highway. These bikes are intended to be enjoyed on private property. Use of these bikes on a public highway could result in criminal proceedings.
The Following parts are not covered by the  warranty on this item.
Chains & Belts;
Fairings/ bodywork (unless damaged during delivery. Photos required within 24 hours of receipt)
Pull Starts or Inner Cogs;
Clutches or springs
Brake Pads
Exhaust Pipes;
Tyres, Wheels, valves and Inner Tubes;


Terms of Warranty
Due to its size and weight this item is covered by a replacement parts warranty, if your machine develops a fault within the warranty period of 30 days, you need to contact us and we will advise how to best rectify the problem and dispatch replacement parts, without charge providing the faulty parts are covered by the warranty.
Please note customers will be expected to fit the parts themselves, guidance will be available on technical issues.
UK MAINLAND DELIVERY ONLY - PLEASE CONTACT US FOR A QUOTE FOR DELIVERY TO THE FOLLOWING POSTCODES
IM,GY, JE, TR, BT, IV, HS, ZE, AB, KA, KW, PA, PH