Description
The Kids will love it and so will the neighbours.
This Renegade Race-X 1000W 36V Electric Quad bike has plenty of power to keep the kids happy but is whisper quiet to keep the neighbours happy too.
Being virtually silent also means you can use it in places where the petrol-powered equivalent would not be allowed.
But being quiet and environmentally friendly are not the only benefits of the fantastic Mini Quad. Having a modern electric motor means there are no hot exhausts for your child to come near so it's safer, plus being electric you can just switch it on and go no engine to get started which means children can use it without any help.
Electric powered quads are also easier to maintain which makes them a better choice for people who are looking for a Quad that is simple to use.
Safety comes first when it applies to your children or grandchildren and this Renegade Race-X 1000W 36V Electric Quad bike has a choice of three maximum speed settings that can be selected by the parent.
This is the new Renegade Race-X 1000W 36V Electric Quad bike, a chain-driven quad bike that has all the power and all the fun!
Compared to their petrol counterparts' electric quads have all the power without the hassle of mixing fuel, they're also a lot quieter and there are fewer moving parts so less to go wrong which is a big plus for a lot of customers who may not have that much experience with petrol engines.
The Renegade Race-X 1000W 36V Electric Quad bike has a steel frame construction with front (double A swing arms) and rear (mono) shocks there are front and rear disc brakes, large wheels and just to add the cherry on top it's 3 speeds. The Renegade Race-X 1000W 36V Electric Quad bike is the full package and is perfect for children that are new to quads as well as the more experienced rider.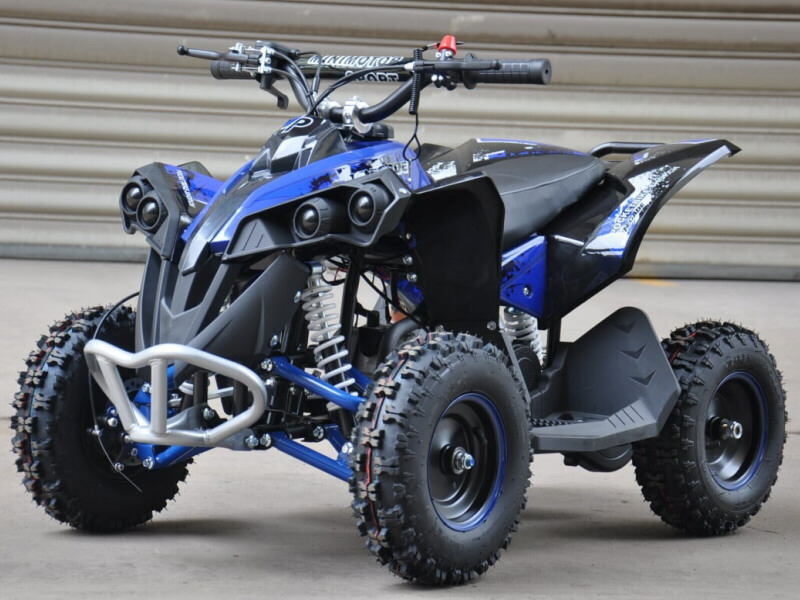 These Renegade Race-X 1000W 36V Electric Quad bike are aimed at younger kids where the light weight and nimble handling make them easier and safer to ride. The power and maximum speed can be set by the parent to provide the appropriate amount of power for the riders ability plus the bike will come to a gently halt should the rider let go of the handle bars.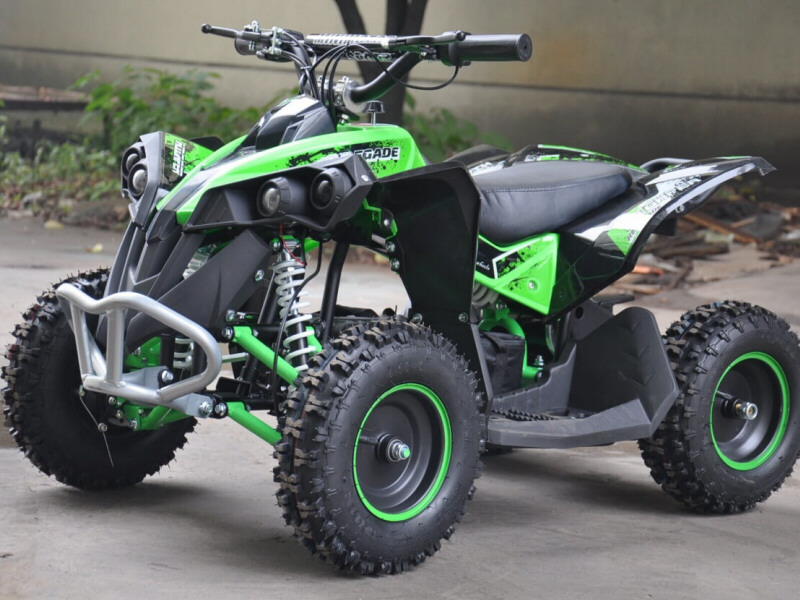 This Renegade Race-X 1000W 36V Electric Quad bike has been designed with safety in mind and conforms to current EU and CE standards. The safety features include a key-operated parental speed restrictor to slow the quad down to a walking pace if required, allowing the rider's confidence to grow. Then as the riders proficiency improves simply open speed settings and allows more performance. The bike also has deep safety footwells to protect the riders' legs when in motion.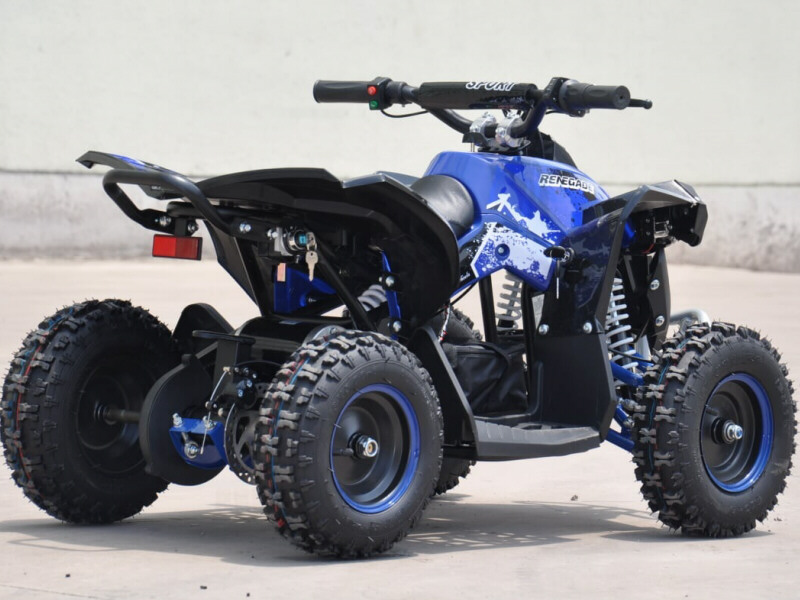 Features Renegade Race-X 1000W 36V Electric Quad bike
1000W 36V Brush Motor
Transmission:

 

Chain
Frame:

 

Steel
Battery:

 

3 X 12V 12AH Lead Acid Battery
Charger Included
3 Speed Settings
Front and Rear Disc Brakes
Front Double A Swing Arm Shock
Rear Mono Shock
Wheels:

 

Front – 4.10-6 Rear – 13×5-6
Seat Height:

 

47cm
Specification Renegade Race-X 1000W 36V Electric Quad bike
Assembly Time:

 

40 minutes
Brand:

 

Renegade
Height:

 

70 cm
Length:

 

118 cm
Width:

 

71 cm
Number Of Seats:

 

1
Voltage:

 

36V
Top Speed:

 

30HM/H
Safety Notice
Health and Safety have determined that this type of product is intended for use by 14 years and above. However due to its size and ease of use we are aware that this Mini Moto is very attractive and popular with much younger children and we often get asked if it is suitable for children as young as 6 and under. As the ability and experience of younger children can vary greatly, the use by children under the age of 14 is therefore solely at the discretion of the parents who are in the best position to assess the capability of their child. What we would urge is that whatever the age of the rider that they wear adequate protective gear and the bike should only be used in appropriate places with adult supervision.
Final assembly
To reduce the risk of damage during the delivery and make the bike easier to ship some components may have been removed and packed separately.
A small amount of final assembly is therefore required, such as fitting the front wheel and handlebars (all controls already fitted). The bike should also be checked before first use and then regularly to ensure all the essential bolts and fittings are secure and correctly adjusted. We advise you not to purchase this product unless you have a good understanding of how to use and maintain mechanical products.
None of the bikes we provide are 'road legal' and are not for use on the public highway. 
Reviews
Renegade race-x 1000watt
I got my son a renegade race x 1000watt and had nothing but problems with bolts just coming loose, battery moves around it shouldn't, the chain just keeps coming off and nearly snapping and I've tried tightening it up and goes tight but when quad is even moved forward by hand the chain goes loose when push ward even though chain been adjusted and the front wheels are not straight and I don't mean like with the handle bars I mean the are on a slant and the from left wheel come with slow puncher I will be see if can sort this on the 5th when reopen for business as close till them but my son was not happy with it and has had all of 20 minutes as first time the chain kept coming off and realised wheels and stuff was totally not straight when he first went on it.
Awesome Christmas
What a fantastic little quad. With three power settings it facilitates three of my 4 grandchildren to the most joyous and exciting Christmas Day riding round the garden… could do with a high quality operating manual & although there wasn't one supplied with the bike, it took just one email to get an 'e' version and great after sales support.
Christmas present
We recieved our Renegade today so thank you. We ordered the quad built and arrived on a lorry this morning. My partner has just had a quick go and he said if it wasn't pink and slightly bigger he would order one as well 🙃 this is the best Christmas present ever.
Good and bad
My son will love this and it looks great. The steering arm was bent meaning the tracking was out. I had to dismantle the assembly and bend the steering arm back into shape! 😳
Mixed reviews good and bad
A mixed review
Price was fair as it had a discount at the time on the 1000w kids quad
Quality of the quad was much better better than I expected, alot of weight and quality to the feel ( for a kids product)
Front and back disks and alot of power for a kids toy enough to pull an adult over a garden with slight hills
So overall happy with the product
Bad points
Box came wet so things inside were damp i.e stickers
Box was damaged with parts that fell out onto the drive when delivered ( everything was there to complete the quad)
Frame on the bottom was damaged in transport
Parts that hadn't painted on the frame
Cracks in the side wall of the tyres
Paid for next day delivery but it came 4 working days later ( orderd Thursday night arrived wed afternoon)
Contacted minioffroad before writing this as I wanted to be fair and see what they would say as the damage was the transports fault but 2 weeks later no reply off them
I'd order off them again if it was cheaper than other places as I atleast know it's going to turn up
But sadly the customer service wasn't up to scratch
Choosing a selection results in a full page refresh.
Press the space key then arrow keys to make a selection.