MBO 110cc Quad Bike Thunderstarter 4 Stroke with Electric Start 2021 Model PRE ORDER DUE NOVEMBER!
£599.99
Regular price
£649.95
Tax included.
Shipping
calculated at checkout.
PRE ORDER DUE NOVEMBER!
ORDER NOW TO SECURE THE MOST AWESOME CHRISTMAS PRESENT OF THEM ALL!!
MBO 110cc Quad Bike Thunderstarter 4 Stroke with Electric Start
This 110cc Quad Bike has more power and is intended for older kids or more experienced youngsters and adults as they can carry a massive 100kg.
Although the power can be restricted when necessary, having more power available when required means they will not be outgrown and therefore last longer making this quad a good longer-term investment.
Mini BIkes Off-Road have a wide range of Quad Bikes and Mini Quads all built to European safety standards. Whether for just mucking about down the lanes and across the fields or for competition use these quality Quads are now available at a really affordable price.
Your kids cannot fail to be impressed by the performance of these machines.
Quality built to European safety standards these 110cc Quad Bikes not only look fabulous but have all the features you need for a proper Quad.
First it has the power, the 110cc engine extends the appeal of this Quad to older children, there is nothing more disappointing than to find that the Quad which seemed to have plenty of power when you first started driving now simply wont deliver as you get more skilled and need to push it harder.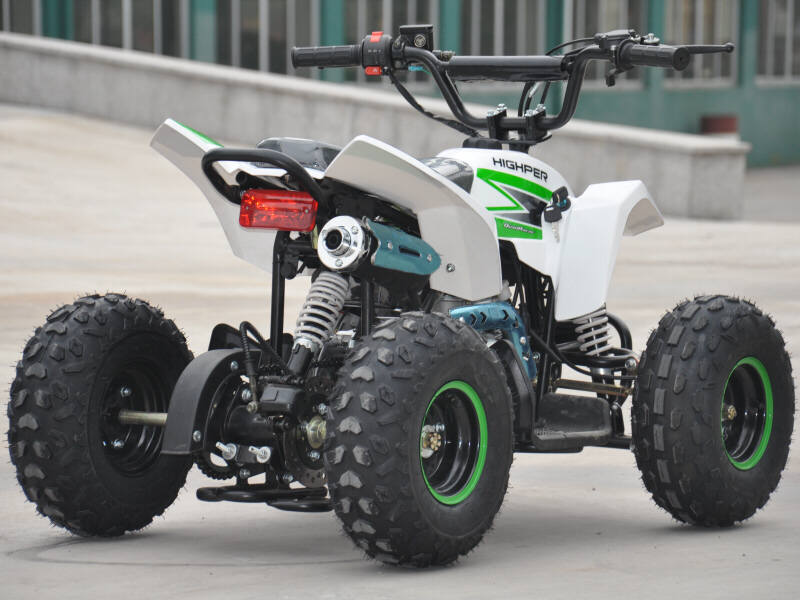 The 110cc Quad bike has much more power and torque, enough in fact to propel most adults, but don't forget this can be restricted for those who need it. So as your child gains abilities they won't outgrow this Quad's abilities, making this bike a good longer-term investment.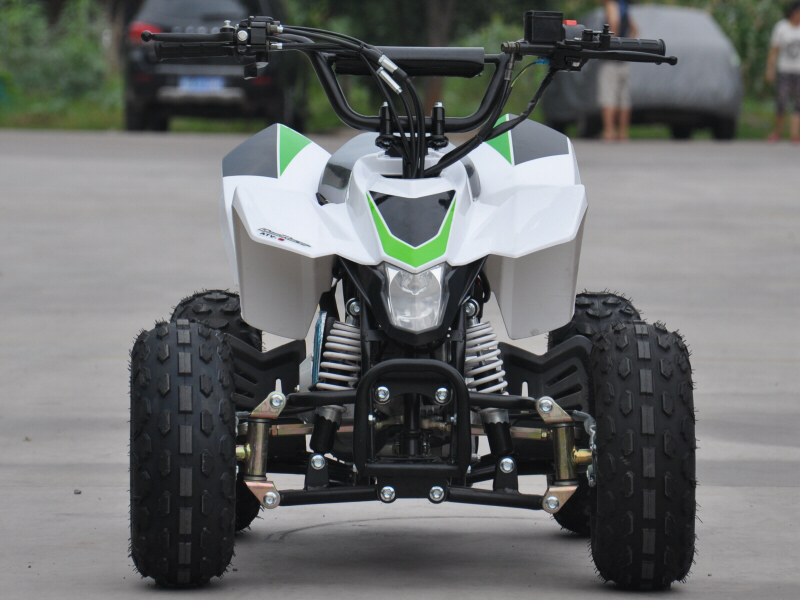 110cc Quad Bike Features
110CC, Four stroke Auto (Rev 'n' Go)
Electric Start with Key
Lights Front & Rear
Big Bull Bar
Fully Enclosed Safety Foot Wells
All Black Frame
With front double drum brake + rear Hydraulic disc brake
With full chain cover for safety
With front double suspension + rear single suspension
3mph – 49mph (Restrictable)
Dual Adjustable Front Shocks
Adjustable Rear Shock
Size: 117cm x 81 x 76
Weight 71Kg
Recommended Max Load 100Kg (16 Stone)
Air Cooled
Please contact us for delivery outside Mainland UK!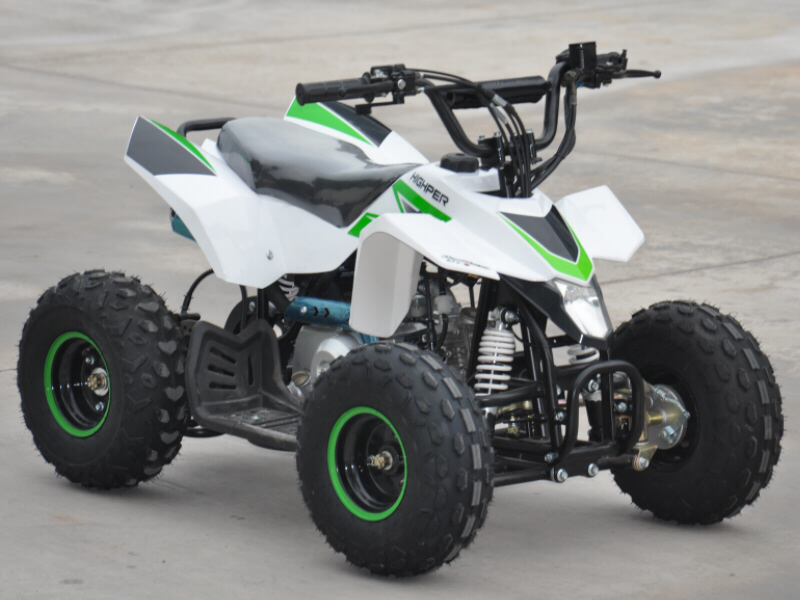 Terms and conditions of supply for Mini Motos, Pit Bikes and Quad Bikes.
All motorbike's and quad-bikes can be dangerous if used incorrectly. Please wear appropriate safety equipment at all times when using bikes or similar machines. The use of any powered vehicle could involve the risk of injury or death. Please use these products in a responsible manner.
The products that we supply are technical & mechanical products, which require mechanical knowledge and ability to use and maintain. You should not purchase these products unless you have a good understanding of how to use and maintain mechanical products.
None of the bikes we provide are 'road legal' and are not for use on the public highway. These bikes are intended to be enjoyed on private property. Use of these bikes on a public highway could result in criminal proceedings.
Terms of Warranty
Due to its size and weight this item is covered by a replacement parts warranty, if your machine develops a fault within the warranty period of 30 days, you need to contact us and we will advise how to best rectify the problem and dispatch replacement parts, without charge providing the faulty parts are covered by the warranty.
Please note customers will be expected to fit the parts themselves, guidance will be available on technical issues.
The Following parts are not covered by the  warranty on this item.
Chains & Belts
Fairings/ bodywork (unless damaged during delivery. Photos required within 24 hours of receipt)
Clutches or springs
Brake Cables, Disks and Callipers
Exhaust Pipes
Tyres, Wheels, valves and Inner Tubes
Required To Use
Some minor final assembly is required to refit items that have been removed to protect them during transit or to enable the bike to fit in the packaging.
All that's needed is unleaded petrol.
Item Condition
All the models, accessories and spares we sell are brand new and unused in the original manufacturers packaging and the latest specification.
We do not sell customer returns, factory seconds, reconditioned or old specification items.
UK MAINLAND DELIVERY ONLY - PLEASE CONTACT US FOR A QUOTE FOR DELIVERY TO THE FOLLOWING POSTCODES
IM,GY, JE, TR, BT, IV, HS, ZE, AB, KA, KW, PA, PH
******WE STOCK A HUGE RANGE OF SPARES*******
Quad
Very fast delivery top quad 5 star ⭐️
Nippy wee quad
Its a brilliant wee quad for the size of it only down side is that the clips fallen off the bottom of the seat while driving it which is now gone and one of the tyres went flat after 4 days of use but not that big of an issue sorted already. would definitely recommend it to anyone it suits kids and adults im 26 and i love it lol and the kids definitely love it
Good overall
Once you put the hard work in the quad works well - but it was quite a painful process to get here.
The quad was dispatched extremely quickly but it was not possible to track delivery so we had a nervous few days wondering if it would come in time for my daughter's birthday. Minioffroad did chase for us and confirmed delivery day. We didn't get a call as anticipated so it was lucky that we hadn't popped out for a dog walk etc.
When the bike came it took quite a lot of putting together. The tools provided were not quite right and the manual was for a different bike. A bolt was also missing. It took two competent people several hours and we still haven't worked out how to fit the hub caps. We needed to use pins to stop the wheel nuts coming loose during use.
Once the bike was assembled we found a problem with the starter switch. A new part was quickly dispatched but we had to fit this ourselves and again it wasn't easy.
The bike was now running but kept stalling. We enlist help from a friend at this point. He advises us to use fresh petrol (tip for others) and tinkers with a few things.
It now runs well and the girls love it. However a stressful few days and disappointing to my daughter who was keen to give it a try.
If I had seen the assembly option when I'd purchased the bike I would definitely have gone for this! I would buy one again but I wish minioffroad had included assembly as standard (and charge more - that's fine).
MBO 110cc Quad Bike Thunderstarter 4 Stroke with Electric Start 2021 Model
MBO 110cc Quad Bike Thunderstarter 4 Stroke with Electric Start 2021 Model