Description
MBOX49 Mini Dirt Bike 2022 model
If you are looking for more power this bike is the one to have. With A High-performance Sports Exhaust the MBOX49 is one of the most powerful 50cc Mini Dirt Bikes available.

New for 2022 we have put the 15mm Race carburettor on these bikes!
These Mini Moto 50cc Mini Dirt bikes have quickly become the most popular type of the Mini Moto thanks to their ability to be used almost anywhere. The MBOX49 Mini Dirt bike can handle uneven ground due to its front and rear suspension and chunky tyres it has brought access to a whole new world for the Mini Moto enthusiast. The MBOX49 also makes an ideal first motorbike.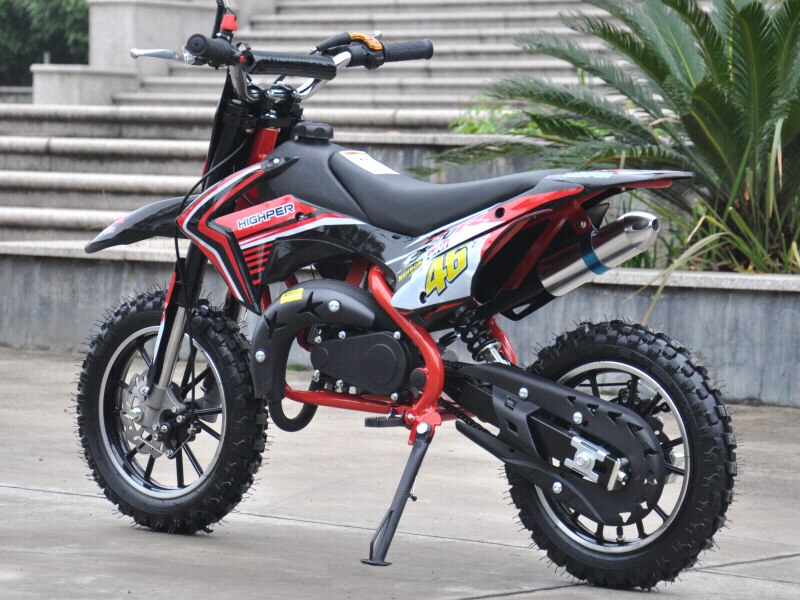 Quality built to European safety standards these Mini Moto 50cc  Mini Dirt Bikes have important safety features that you do not find on all Mini Motos 50cc  Mini Dirt Bikes including, Safety Cut-Out with a tether to stop the bike should the rider become unseated, fully enclosed chain to stop clothing or other items coming into contact with the transmission and front and rear independent disk brakes. The speed can be restricted for inexperienced riders.
Small and light enough to be put into the back of a car they are easy to take to one of the many Mini Moto tracks around the country.
At these prices, all your mates can have one and then you can have some real fun!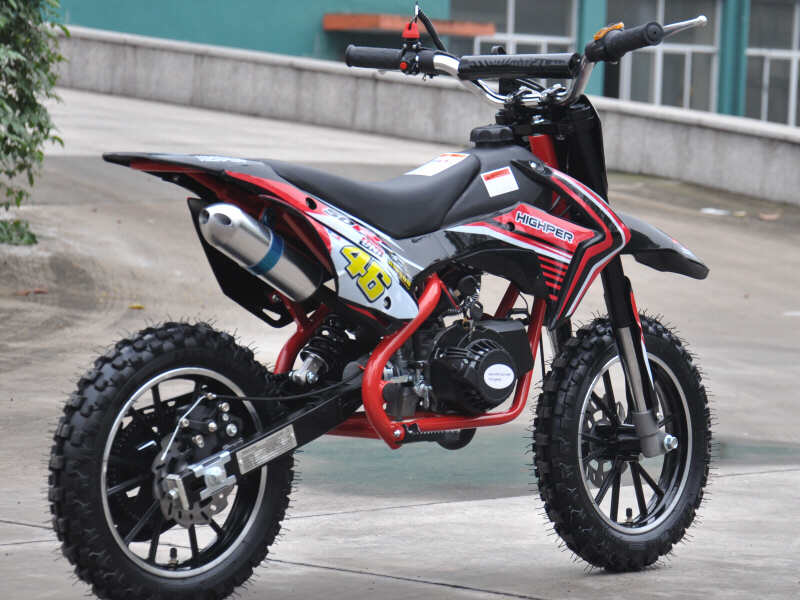 The Mini Dirt Bike
 MBOX

49 

PRO is a premium Mini Dirt Bike.

This bike has many upgrades over the normal Mini Moto 50cc Mini Dirt bikes available including  the following:
Sports Exhaust with Aluminium End Can (Sounds Great)
Aluminium upside-down forks with stanchion guards (looks the business)
Colour coded frame (added quality)
Upgraded Bodywork and Fuel Tank (latest design)
Proper off-road tyres (better handling)
Up-swept exhaust with aluminium End Can (better ground clearance and great sound)
Wavy disks front and rear (not only look great but work great as well)
Upgraded swing arm (Looks better and is stronger)
And now the latest stock has the following further upgrades making it even better value:
Upgraded stronger racing clutch
Easy Start pull starter (makes starting much easier, particularly for youngsters)
Upgraded Graphics
Colour coded frame
You won't find this list of upgrades on any other Mini Dirt Bike for this price.
      MBOX49 
PRO Features
Speed can be restricted for inexperience riders
Safety Cut Out with Tether
Range/tank: 35 – 45 miles
Max. Load: 65kg
Engine: 49cc, single-cylinder, 2-stroke, air-cooled
Fuel: 25:1 petrol/oil mix (mixing bottle included)
Steel Fuel tank: .8L
Start method: manual pull start (Easy Start)
Ignition: CDI
Transmission: chain-driven (fully enclosed for safety)
Brakes: Front and rear independent disc brakes
Material: a) Frame: steel. b) Bodywork: ABS plastic
Upgraded Stronger clutch
         MBOX49 PRO Specification
Engine Type – 49cc, single-cylinder, air-cooled, 2stroke
Starter – Easy Start Pull start
Fuel Mixing bottle
Tool kit
Ignition – CDI
Carburettor – Ruixing Brand
Transmission – Chain
Upgraded Clutch – Automatic
Max power – 2.1KW
Frame & Swing Arm – Steel
Front shock – Inverted  aluminium front shock
Rear shock – Taiwan  alloy rear shock
Brakes – independent Front & Rear Disk
Front & Rear wheel – Front:  2.5-10  Rear:  2.5-10
Engine Sprocket – 14   teeth
Overall length 125 cm
Seat height 60/62cm
Package Size L / W / H – 108 x 31 x 52 cm
Tank Capacity – 0.8L
G.W. / N.W. – 27 kg/25 kg
Please note we no longer use the "performance engine" due to reliability issues so the bikes are fitted with the newest 49cc air-cooled engine.
Terms of Warranty
Due to its size and weight this item is covered by a replacement parts warranty, if your machine develops a fault within the warranty period of 30 days, you need to contact us and we will advise how to best rectify the problem and dispatch replacement parts, without charge providing the faulty parts are covered by the warranty.
Please note customers will be expected to fit the parts themselves, guidance will be available on technical issues.
The following parts are not covered by the warranty on this item.
Drive Chains & Belts;
Fairings/ bodywork (unless damaged during delivery. Photos required within 24 hours of receipt)
Pull Starts or Inner Cogs;
Clutches or Clutch springs
Brake Cables, Disks Callipers and pads;
Exhaust Pipes;
Tyres, Wheels, valves and Inner Tubes;
Spark Plugs;
Any other parts of similar wear and tear nature to those listed above and any part that has been damaged as a result of an accident, misuse or lack of maintenance.
Reviews
Brilliant bike
So glad we ordered this bike. A friend ordered a bike from fun bikes but we ordered this for our son. I must say the build is so much better than the other bike. Our son loves riding this over the fields and so far it's been faultless.
Great fun for kids
This little bike gives so much fun to the kids! It may not be as good as Yamaha or KTM but it is definitely a great value for money!
Instruction included is not very clear, but the assembly process is straightforward and easy.
Wrong bike sent
I received the wrong bike, I paid extra for MBOX49 pro version but recieved the cheaper version also not the colour I ordered. The customer Service was not great at first, i tried calling many times with no answer, I also sent messages to there Facebook messenger. I decided to put the bike together as I couldn't get any help and it was a birthday present for my son. After nearly 2 hours of putting the bike together I realise the bike is faulty, the back wheel is completely off balance and wobbles all over the shop and the choke can not be turned off without the bike cutting out even when the engine was warm. I have now received a message back from them and have agreed a swap for the original bike I ordered so fingers crossed this one will be ok.
Great nippy starter bike.
Came packaged well, took me about 2 hours to build, tightened every bolt on the whole bike once got it together as sometimes there maybe a loose bolt here and there(just to be safe),
My 11 year old boy loves it. Good on fuel and pulls really well. 10/10
Handy tip, tighten up the clamp from the carb to the air filter and also the bolts all round the carb to stop minor leaks! Will be purchasing a quad next for my disabled son next. Thank you.
Christmas present
Fantastic bike for the money, easy to put together and plenty of power.